Skipper Desire 120s Tender
Skipper Desire 120s Tender

Engine:
3x 350 outboard or 2×400 HP Diesel


SKIPPER DESIRE 120 TENDER:
Desire 120 Tender is a sports version which combines an ultra-high performance hull with a luxurious deck. The aggressive style, the aerodynamic line, and the fast hull are the characteristics which make this version a sport one.
HULL DESIGN:
A really good speedboat must be seaworthy and this is mainly due to its hull. BSK Marine is based on this theory, so it designs and manufactures boats, which offer excellent sailing, great performance and low fuel consumption.
Skipper 120 Desire is equipped with a hull, which is the product of many years of studies and testing. Some of her characteristics are a consumption rate of 2.0- 2.5lt per mile and a speed of 50 – 70 knots, depending on the engine combined (2 * 300Hp min or 2 * 650Hp max).
WELCOME ON BOARD:
The deck of a Sports Tender must cover all kinds of needs either on a day trip or on a long vacation.
Nevertheless, the cabin's small exterior size does not reveal her internal comfort and thus gives a sporting character and an aerodynamic line on the boat. During a day trip, while the crew will be able to move easily around it and especially on the two stern's coaches and on the two huge sun beds.
RIGID COLLARS:
Skipper Desire 120s has rigid perimetrical collars (GRP) full filled with foam and with no need of inflation. This innovation allows the boat to have all her riding characteristics and backup buoyancy like a RhIB but she is also a power boat without the risk of deflation.
The diameter of rigid collars is smaller at the bow than it is at the stern and the biggest height from the deck floor is at the middle of the boat. Collars have a "D" shape (not complete circle), increasing the internal boat's width.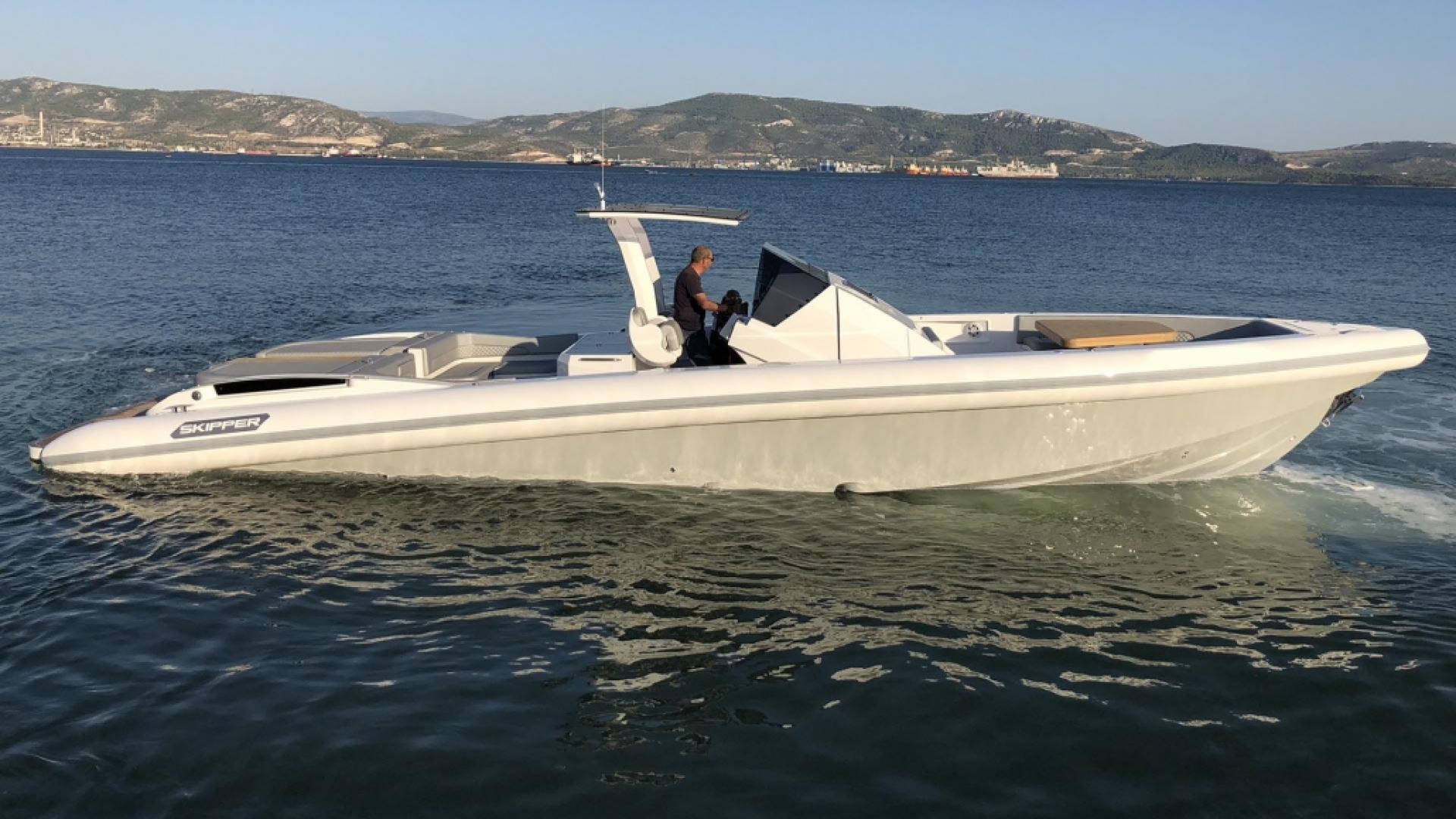 Construction:
Carbon-Epoxy