Azimut Grande S 10
Azimut Grande S 10

Engine:
2x MTU M96L - 2600 mHp


Carbon Tech Generation
The use of carbon fibre is a construction choice that allows volumes and surfaces to be increased in size while keeping the same weight, therefore maintaining excellent levels of dynamic stability. Carbon fiber lamination is applied to:
-Superstructure
-Flybridge
-Radar Arch
-Hard top (opt)
-Transom / Platform
Naviop advanced monitoring system
The bridge was produced in partnership with Simrad-Naviop and has a single ultra-wide screen displaying all the main monitoring and navigation information, a mix of video sources and clusters of content chosen using the commanders, or two touch screens duplicated by two physical joggers for extra redundancy and safety.
Aesthetic and functional light design
Lighting is a feature of the unique and innovative design. Light design elements combine the functional and the aesthetic LED lights pick out the steps of the stern swim platform and the central stairway accessing the flybridge. The lights switch on in rapid sequence to create an unusual scenic effect, this too inspired by car design and also illuminating the boat's courtesy areas.
Electrochromic glass skylight by Isoclima Cromalite
The electrochromic glass skylight by Isoclima Cromalite is a laminated panel incorporating an electro-optical film based on SPD (Suspended Particles Device) technology. The system is activated by an electrical field that aligns the particles suspended in the film to be able to control solar radiation transmittance very effectively in the visible range and certainly significantly in the solar range.
Active Trim Control
Automatic interceptors by Humphree gives the vessel the lift it needs to get up on plane faster or to reach that optimum running trim. In this way the resistance of the hull is automatically optimised for every speed and load condition, this resulting in increased speed and lower fuel consumption. The Humphree system is all electric powered by 12-24 Volt DC. Thanks to the design of the Interceptor it only requires a small amount of power to move the blade up and down, even under high speed operation.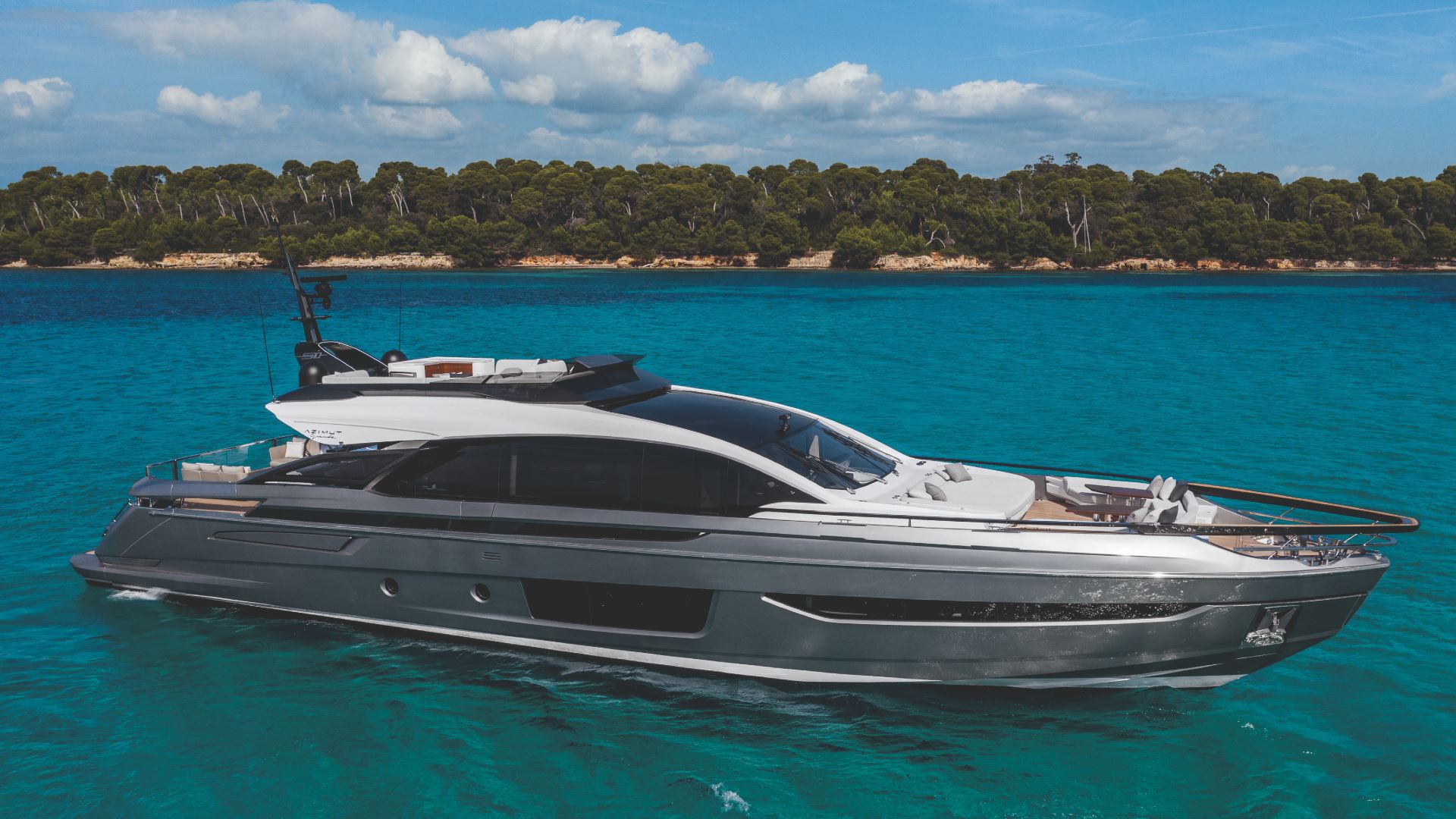 Interior Design:
Francesco Guida
Exterior Design:
Alberto Mancini
Construction:
Carbon Fiber + GRP